Master of moisture. Hero of hydration. Boss of bounce. Fighter of frizz. Superstar of shine. Protector of the realm (aka your hair). Seriously, though, our Leave-in Conditioner really does it all. Don't underestimate the power of a few pumps of this stuff; it's the first thing we reach for when our hair is craving moisture or we need a quick style refresh between washes. Haven't yet added a leave-in treatment to your routine? Here's why you might want to get on that.
What's the point of leave-in conditioner?
Two words: major moisture. (But also easier detangling, smoothed frizz, curl definition, damage protection and shine!) Leave-in conditioner's main job is to keep your hair hydrated and protected in between washes, but a good one will act as a detangler, styler and damage shield, too—basically everything your hair needs to stay healthy in one bottle.
How is it different from regular, rinse-out conditioner?
Aside from the obvious fact that you don't rinse it out, leave-in conditioner is also formulated differently from rinse-out conditioner.
Rinse-out conditioners are designed to immediately restore any moisture lost from shampooing, so they're typically made with heavier ingredients, like thick oils and creams. Left on long-term, these ingredients would weigh down the hair, which is why you rinse them out after a few minutes.
Leave-in conditioners, on the other hand, are formulated with lighter ingredients that coat strands without weighing them down or leaving heavy residue. That way, it can be left on your hair—and continue to nourish and protect it—until you're ready to wash it out.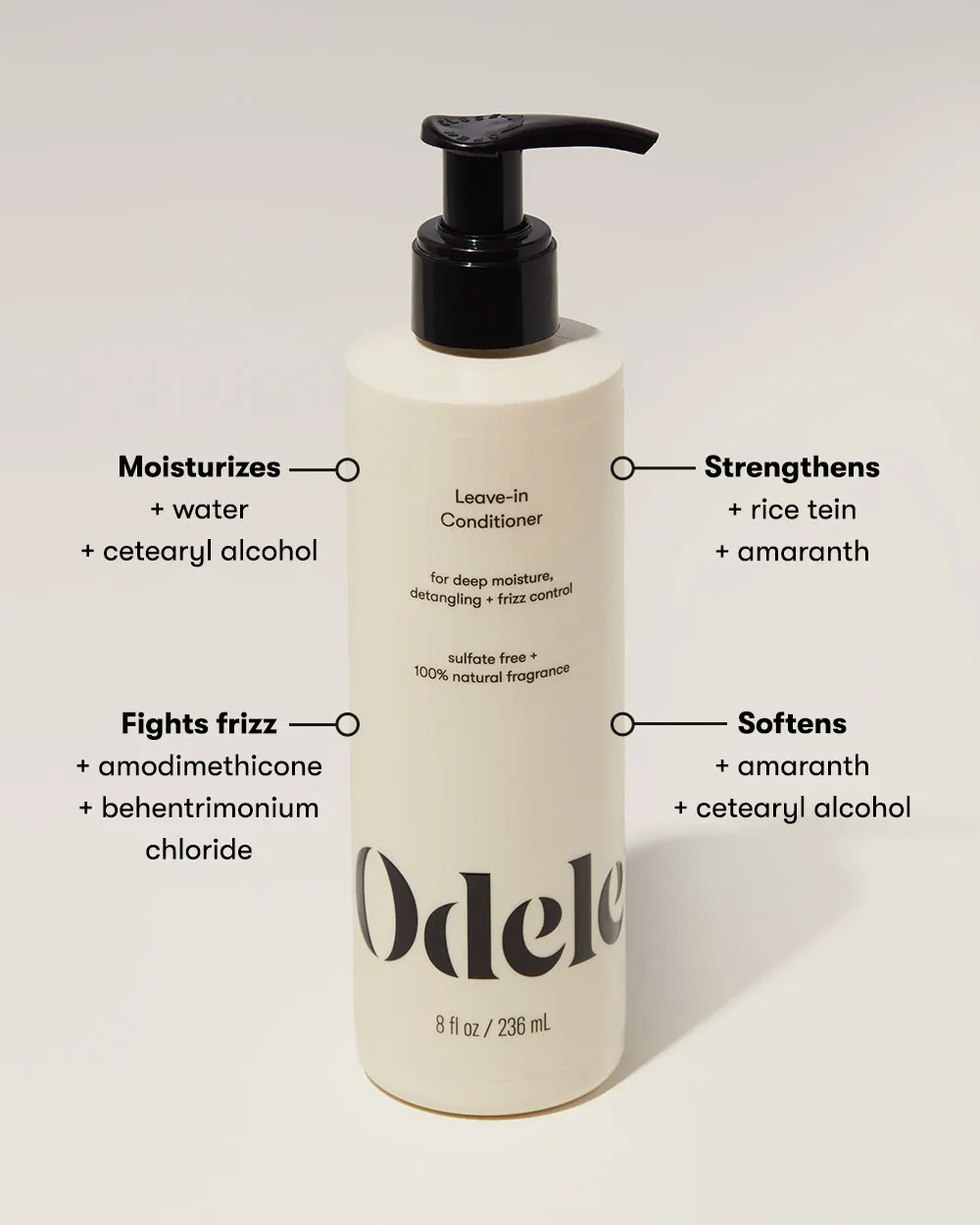 Who needs to use it?
Most hair types can benefit from a leave-in treatment, but it's especially beneficial for anyone with dry, damaged or frizz-prone hair. In fact, leave-in conditioner is a key component of any curly or coily hair care routine, as these hair types are naturally thirsty and need lots of moisture to stay healthy.
Odele's Leave-in Conditioner is recommended for medium to coarse hair and wavy, curly and coily textures. Those with thin and/or straight hair will benefit more from a lighter (but still nourishing!) styling product like our Air Dry Styler.
What should you look for in a leave-in conditioner?
You want to use a leave-in conditioner that's specifically designed for your hair type and hair goals. The good news is there are all kinds of formulas focused on different hair needs (although some leave-in treatments—ahem, ours—pretty much do it all).
Ingredients are important, too. Here are some good ones to look for, and a few not-so-good ones to steer clear of.
The good stuff:
Water. The OG moisturizer. It might seem like water is a filler ingredient, but it's crucial to the formula of any hydrating leave-in product.
Proteins. These strengthen, protect and restore hair from damage. Common ones: hydrolyzed keratin, hydrolyzed wheat protein, hydrolyzed silk protein, and hydrolyzed rice protein (aka rice tein, our fave!). Note: Hydrolyzed means the protein has been broken down from a longer chain of amino acids into smaller chains or individual amino acids so that hair can absorb it better.
Conditioning agents. This one's obvious, but the exact ingredients to look for may not be. Two clean, safe ones are behentrimonium chloride (plant-derived from oilseed turnip) and behentrimonium methosulfate (plant-derived from rapeseed).
Emollients (fatty alcohols). Fatty alcohols like cetyl alcohol, cetearyl alcohol and stearyl alcohol act as emollients, meaning they help to lubricate, soften and seal in moisture. (These alcohols are non-drying and oh-so-good for hair!)
Natural oils + extracts. Think argan, almond, jojoba, macadamia or amaranth (we swear by the superpowers of this seed) for lubrication, softness, shine and strength.
Silicones. The use of silicones in beauty products is a polarizing topic—people tend to either love them or avoid them at all costs (though despite differing opinions, they are perfectly safe for hair). Whether you choose to use them is totally up to you, but experts agree that they're one of the most effective ingredients for fighting frizz and making hair ultra-glossy and smooth. Silicones (like amodimethicone) also shield strands from damage by forming a protective layer around the hair cuticle that seals in moisture and protects against heat.
The not-so-good stuff:
Phthalates + parabens. These two substances are linked to serious health problems and have been banned by the European Union. You won't find them (or any of the other 1,300+ ingredientsoutlawed by the E.U.) in any Odele products.
In our Leave-in Conditioner, ingredients like cetearyl alcohol help to lock in moisture and add super slip for easy detangling (a huge plus when you're working with little ones' locks!), while amodimethicone curtails frizz and rice tein and amaranth make hair smooth, shiny and strong.
Now that we've covered what to look for, let's talk about how to use leave-in conditioner.
When + how to use leave-in conditioner
Right after washing your hair:
Use it to seal in moisture, smooth and detangle with ease. Smooth this stuff through your damp hair immediately after shampooing and conditioning to lock in moisture, prevent frizz and minimize detangling effort. Be sure to focus the product from mid-shaft to ends to avoid buildup on your roots. (Pro tip: Apply it while you're still in the steam of the shower to lock in mega moisture—just be careful not to accidentally rinse it out!)
Between washes:
Use it to rehydrate, refresh and extend your style. Apply it to your hair whenever it's feeling dry to restore moisture. Slick a few pumps through your strands to smooth down frizz and flyaways, or scrunch it into your curls for a little extra bounce and definition.
(Not sure how much to use? The finer and thinner your hair, the less you'll need—just a touch should do the trick. For coarse, thirsty hair, keep pumping 'til those strands are well coated.)
Can I use leave-in conditioner every day?
It depends on your hair type and how often you shampoo. Daily use may work for you if you wash your hair pretty frequently. If your wash days are more spread out, you may not need to apply it as often. Like with any product, monitor how your mane looks and feels. Limp, greasy locks or excess buildup could mean you need to lighten up use!
The Drop
If you're looking for a styling product that's as efficient as it is effective, a good leave-in conditioner should be your go-to. Our multitalented Leave-in Conditioner is a one-stop shop for all your moisturizing, protecting and styling needs—taking the fuss (and frizz!) out of your daily routine.