Do you love a slicked-back style? Want curl definition that lasts all day? Hair gel could be for you. It's a styling product that's often overlooked—perhaps thanks to its association with the stiff, spiky looks of earlier decades. Gel is a holy grail product for certain hair textures and styles—and we leave the crunch out of our bottles entirely.
With the right technique, hair gel can help your 'do stay sleeker and last longer. Here's how to use it.
What is hair gel, exactly?
Hair gel is any gelatinous product designed to give hair hold. The first hair gel came on the market back in 1929 by an English company called Chemico Work. It was designed to keep combed hair in place and quickly spread in popularity around the world.
Hair gel often gets a bad rep for containing drying alcohols and other ingredients that can be hard on hair. The good news is, these days there are gentle, non-drying hair gel formulas designed to support—not sabotage—hair health. Our Flex Hair Gel is one of them.
Who should use hair gel?
Anyone can use hair gel, whether your hair is short, long, straight, curly, fine or thick. Your hair type and styling needs will determine what kind of gel works best for you. For example, if you're trying to achieve a super-shiny wet look, you'll probably need a different formula than if you're trying to add light, natural-looking definition.
When to use hair gel
To smooth frizz and flyways. Whether you're styling a sleek topknot or neat braids, hair gel is ideal for securing strands in place.
To define curls and coils. Does your wash-and-go frizz up fast? Use hair gel as the last step in your routine for better texture definition and long-lasting shine.
To style edges. Hair gel is also great for slicking down rogue edges and styling baby hairs.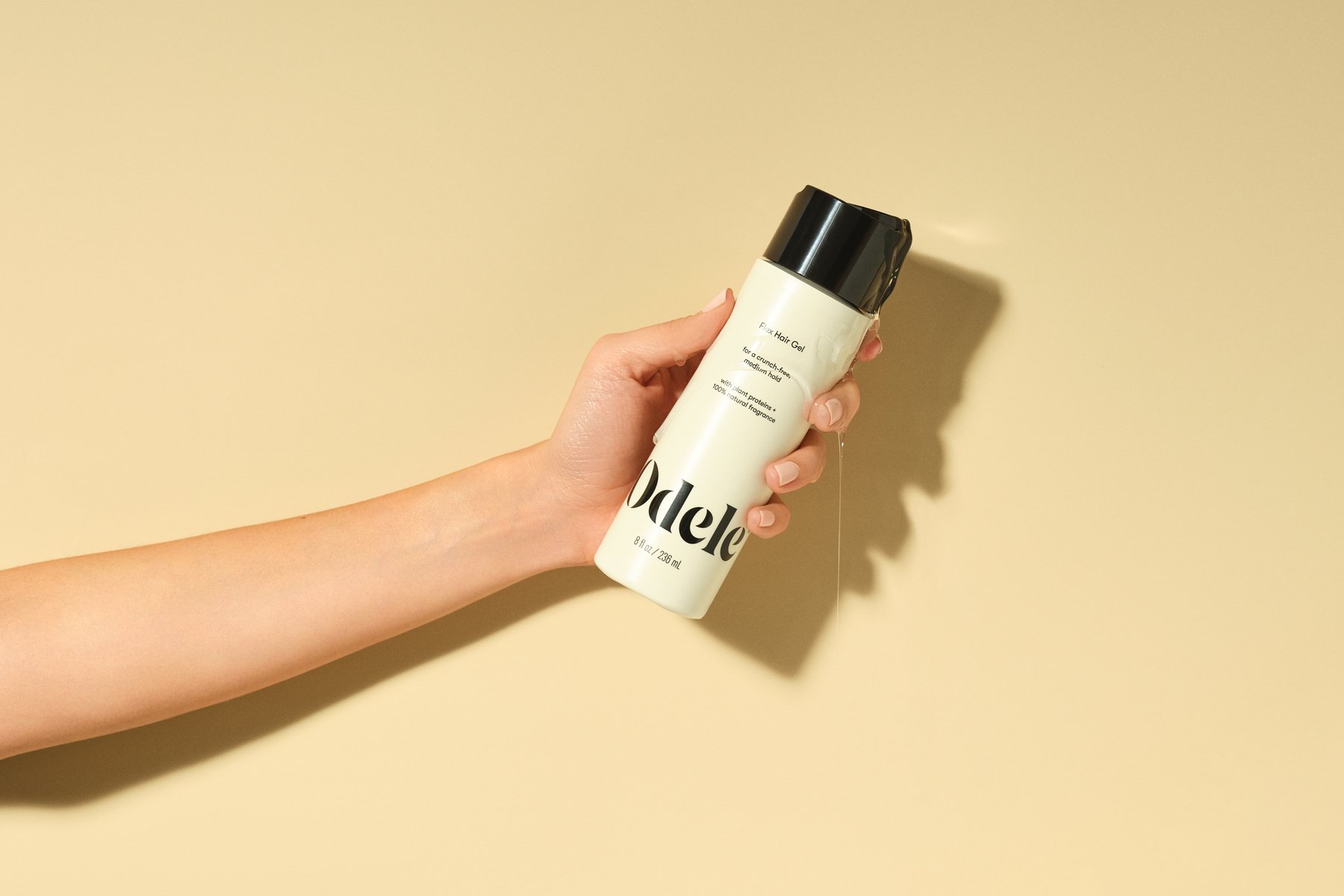 How to use hair gel (for the best results)
Start on clean, damp, detangled hair. You'll get the best results when you apply gel to damp or wet hair—that way, the product can glide through your strands easily and lock in moisture for better frizz control. Avoid using gel on dirty or oily hair to prevent flaking.
Pick the right type of gel. Regardless of your hair type, choose a hair gel that is free of drying alcohols, which can leave hair stiff and brittle. Here are the main ones to avoid:
ethanol alcohol
ethyl alcohol
propanol alcohol
alcohol denat.
isopropyl alcohol
isopropanol alcohol
benzyl alcohol
From there, consider your styling needs. Going for a sculpted look? Choose something with a strong hold, like a thicker gel or pomade. If you're just looking for a little texture definition but want to maintain movement and bounce, pick a light or medium-hold product.
Use the right amount of gel. Not sure how much hair gel you need? It ultimately depends on how much hair you're working with and the gel you choose: with a product like our Flex Hair Gel, for example, a little goes a long way. Start with a dime-sized amount and add more from there. Buildup or flaking is generally a sign that you're using too much.
Apply your products in the right order. Hair gel should be applied as a last step, after products like leave-in conditioners, mousses and styling creams.
Shampoo regularly. If not cleansed thoroughly, hair gel and other styling products can accumulate on your strands and scalp, causing oiliness and buildup. Keep up with shampooing to protect your scalp microbiome and refresh your hair. If you use hair gel a lot, factor that into your shampoo schedule: you may need to wash more frequently or use a clarifying shampoo for a deeper cleanse.
The Drop
Hair gel is an easy-to-use product that can help you secure your style for the long haul. Though there are all kinds of hair gels out there, they're not all created equal! For the best results, make sure you choose a formula with non-drying ingredients that matches your styling needs.