Our secret to untangling your morning (or evening) routine? Surprisingly, it has little to do with the actual routine and a lot to do with keeping the bathroom clutter-free.
A thoughtfully organized bathroom can go a long way toward helping you keep your schedule (and sanity) intact—so you can spend less time rifling through drawers and more time doing, you know, any stuff you actually want to do.
Whether you have the bathroom all to yourself or share it with a whole household, here are a few tips to tidy up today.
1. Move it or lose it.
Pull everything out of your bathroom shelves, cupboards and drawers and onto the vanity or the floor. Then pretend you are packing for a week-long trip.
You know what comes next.
Everything you packed? Make a lovely, accessible home for it in the bathroom, because clearly you use it on a regular basis and that's where it belongs.
Everything you didn't pack? Sift through it carefully and get rid of anything expired or that you don't use at all anymore. Can some of the remaining items find a new home that's not in the bathroom? Probably. At the very least, they don't need to be taking up prime real estate.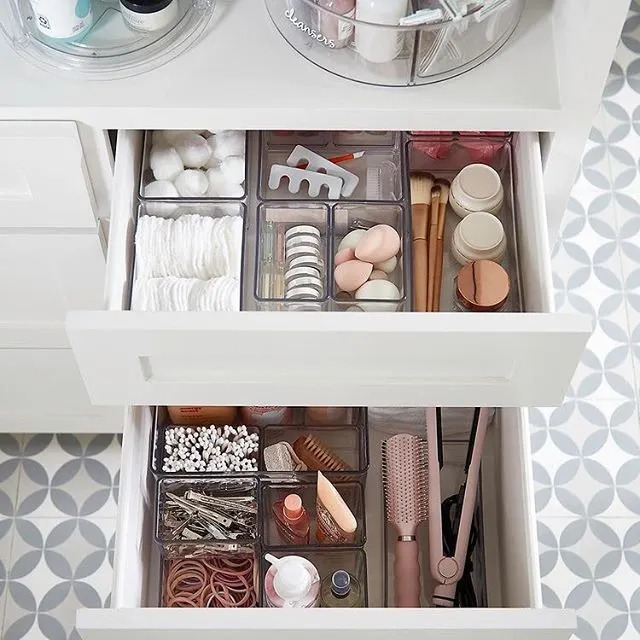 2. Give more power to the drawers.
If you have drawers in your bathroom, congrats! We love a good vanity drawer, except that they can so easily turn into junk drawers.
Drawer organizers are especially helpful in a bathroom to organize skin care products and makeup where there are a lot of little items floating around.
In Marie Kondo's book (you know the one that nearly the whole world read?—The Life-Changing Magic of Tidying Up), one of her best tips is in the drawer department.
Marie suggests saving boxes of various sizes to help compartmentalize your drawers without buying anything new. The boxes that come with small electronics are always particularly nice. We've also had good luck raiding the kitchen for small plastic containers or shopping secondhand for drawer dividers.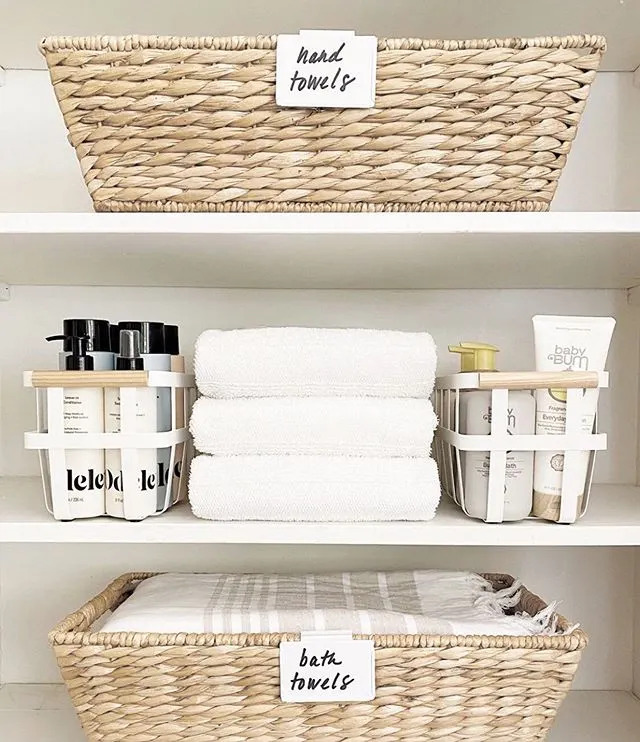 3. Make your open shelving more, um, closed.
Open shelving in bathrooms is an ongoing debate among the Odele team. Some of us love it (because we like the view of our gorgeous products). Some of us don't (because of the inevitable mess and dust-collecting). Luckily, there's a medium place where we can have our Odele products on display but keep the clutter at bay (did not mean for that to rhyme, but it's too late now!).
If you have open shelving, use small baskets, pottery, jars, trays, boxes and storage containers to wrangle rogue shelf dwellers and keep them neatly stored out of sight. No one needs a clear view of their cotton swabs, contact solution and pile of hair binders at all times. For the products that are just too pretty to hide away—like our Air Dry Styler (or literally anything else we make)—consider using clear containers or open-weave baskets.
4. Keep things out of sight, but not out of mind.
Bathroom cupboards and linen closets are great if you've got 'em, but not so great if you shove everything away and call it a day. Storage containers go a long way to keep things organized behind closed doors as well. Think: baskets for hair styling tools, storage cubes for bath towels and containers with lids for first aid supplies.
5. Organize vertically.
Keep things accessible (or not) based on who will be using them and how often. If you can't reach the top of the medicine cabinet without a ladder, don't put your toothbrush there. If you never grow a beard anymore, put your beard trimmer away on the top shelf of the closet. If you have young children at home, give them their own lower shelf or drawer so that they can find (and—more importantly—put away) their things without help from an adult.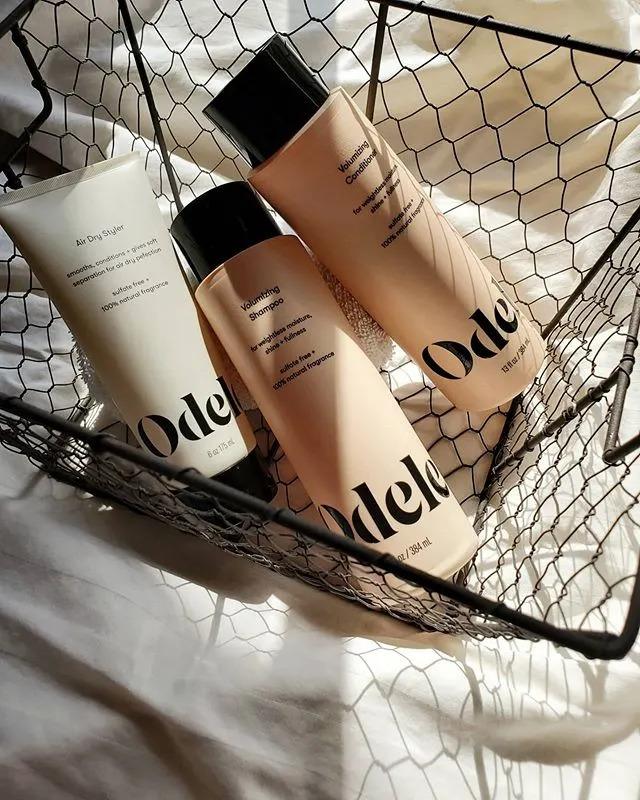 6. Share!
This is our Odele plug (we had to). Truly though, decluttering the shower and bathroom is built into our mission. Our multitasking products are ungendered so you don't need his, hers, theirs—you can share Odele with anyone who shares your hair type.
Everything we make is safe for adults and kids, so you don't need to fill up the tub with cartoon character shampoo just because it's marketed specifically to little ones. And there's built-in versatility in products like the much-loved Leave-In Conditioner, which is perfect for detangling as well as moisturizing.
The Drop
These are just a few uncomplicated ways to banish bathroom clutter that you can try right after you finish reading this post (oh yeah, we know some of you are reading this from the bathroom). Please leave us some love at @odelebeauty and share your own tips for making bathroom routines more manageable for you + your people.